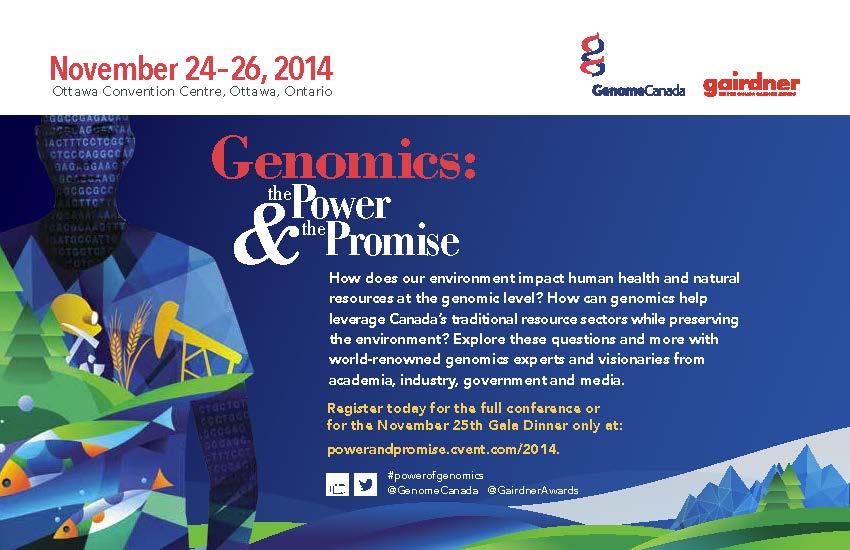 This week, Genome Canada and the Gairdner Foundation are hosting their Genomics: the Power & the Promise event. This year's theme is
Genomics and the Environment
, in which speakers, panelists, and attendees are exploring the applications of genomics in both human and environmental health. Today, the conference was kicked off by MC Jay Ingram (of
Daily Planet
fame), with an introduction from Genome Canada CEO Pierre Meulien, and Gairdner Foundation CEO John Dirks. The conference boasts a highly varied audience, with folks from government, industry, and academia, as well as policy makers and various interest groups.
Day 1 focused on genomic medicine. Highlights after the jump:
The day's main themes surrounded the implications of using personalized genome sequences in medicine. These implications include everything from ensuring that therapies and treatments are optimal and efficient, but there were definitely concerns raised about the possibility of genetic discrimination, particularly form insurance companies. In fact, Yvonne Bombard from the University of Toronto mentioned that Canada is the only G8 country without any kind of policies against genetic discrimination, although there is currently
a bill in the Senate
that attempts to address this. So can we honestly be ready for genomic medicine without the necessary regulations in place? Dr. Bombard also raised several questions about the ethics involved with genomic medicine - primarily, are doctors obliged to disclose all of the information they gather from genomic sequencing, and how can we prevent potential over-treatment?
We also heard from Eric Green, director of the National Human Genome Research Institute (NHGRI). He spoke about genome sequencing and using the genomic data in personalized medicine. When the human genome project started in 1990, we only had knowledge of the genetic factors of 61 rare genetic diseases. Now, we have information about thousands of them. While cancer is by far the hottest topic in genomic medicine, pharmacogenomics, pre-natal and neo-natal screening, and super-rare diseases are also hugely important in genomic research. Pharmacogenomics is important for optimal treatment of disease, since we all metabolize medications differently based on our genes. The technology also now exists to access and test fetal DNA in the bloodstream of a pregnant woman, which is a far less invasive manner of genetic screening than the established amniocentesis tests.
This technology is also being used to detect tumor DNA in the blood, allowing for cancer diagnoses following blood tests! This information came from Alex Dickinson from Illumina. He and Brad Popovich of Genome BC spoke about personal genome sequencing. Dr. Popovich
had his genome sequenced for $5000
, and he can now view and analyze his entire genome on an iPad. Despite much of today's theme focusing on the potential challenges of personal genome sequencing, including genetic discrimination, Dr. Popovich is adamant that this program is incredibly empowering, and worth every penny.
This type of information may actually be better at figuring out the genetic factors involved in brain diseases as well. Much of the information that we have on diseases like autism, schizophrenia, and intellectual disabilities from a genetic perspective comes from twin studies. According to Guy Rouleau, from the Montreal Neurological Institute, we see a 80-90% genetic component to these types of diseases, but when we study the heredity of these diseases, we don't see that same kind of trend. But, he says, genomics has been able to find the "missing heritability" of these diseases: in his research, he has found that
de novo
mutations causing truncations or deletions in the coding region of certain genes are the real culprit behind many of these diseases.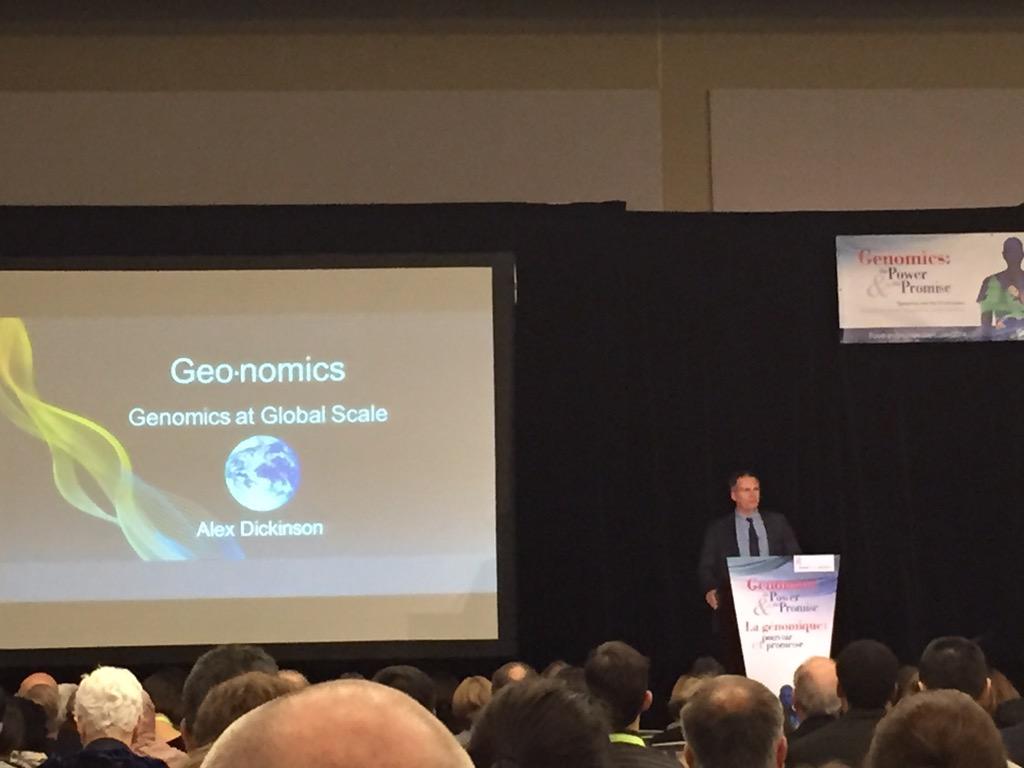 We also learned some new terms today. Dr. Bombard discussed the "incidentalome", which are accidental gene findings that you may not want to know about. Dr. Popovich did not see this as a major barrier when it came to his own genome sequence, but as a trained genetic counselor with a PhD in biochemical and molecular genetics, he may be more able than most to interpret the real risks associated with his genetic code. The general public? I'm not convinced. We also learned about "geo-nomics," or the study of population-level genomics, in order to prevent and treat chronic diseases. This came from Dr. Dickinson, who spoke about the
100 000 Genomes Project
in the UK. The National Health Service (NHS) is funding a project to map the genomes of 100 000 English citizens, in order to learn more about the genetic contributors to rare diseases and cancer.
The integration of genomics into medicine successfully depends on five factors: a genomics-friendly government and appropriate legislation, genomic expertise, national interest, a single-payer health care system (because running a
HiSeq X Ten
sequencer from Illumina is expensive), and a national system of electronic health records.
Tomorrow's sessions will see discussions on environmental impact on human health, with lots of talks on epigenomics, and genomics and sustainability in the natural resource and agricultural sectors. I will be tweeting all day from the @GenomeCanada account and #powerofgenomics, for anyone who wants to follow along.